The Story of the legendary Pop group Dschinghis Khan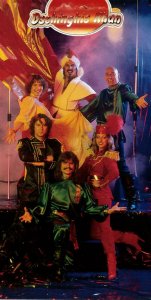 A young journalist described the phenomenon of "Dschinghis Khan" in a magazine for young people in April 1980: "Some practice day and night for years. They want to appear on the TV or at least in the recording studio. But they end up playing in the town sports clubs and the fireman's ball. Pop music is a tough nut to crack. However, there are also masterminds on the scene. For example, the "super group" Dschinghis Khan. This group had already released a hit record before they even came into being. Their hit – also called 'Dschinghis Khan' – is mainly rhythm and dance. Despite this, it still received a gold disc. And in fact, the music is not all that important here. The main rolls are played by: An intelligent producer, an intelligent writer, an intelligent choreographer, an intelligent costume designer, an intelligent and quick-witted group of artists and many, many intelligent teenagers with lots of pocket money. Together, that equals a hit."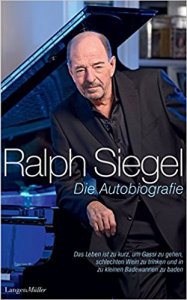 This was just what the composer and producer Ralph Siegel was hoping for. In the pioneering early days of Dschinghis Khan, great ideas were his speciality. He wanted to win the "Eurovision Song Contest", the prize for the televised European event being the most important trophy in pop music. His record about the Mongolian leader Genghis Khan was ideal for this: It was the musical equivalent of a jack hammer, with text which was simple but genius.
"Dsching, Dsching, Dschingis Khan
Hey Reiter, ho Leute, hey Reiter immer weiter
Dsching, Dsching, Dschingis Khan
Auf Brüder, sauft Brüder, rauft Brüder immer wieder…"[Original in German]
"Gen, Gen, Genghis Khan
Hey rider, ho people, hey rider ever onward
Gen, Gen, Genghis Khan
On brother, drink brother, brawl brother ever onward …" [English translation] (Incidentally, the text is not derived from Goethe but from a friend of the producer, Dr. Bernd Meinunger, an eco-agriculturalist.)
For obvious reasons one must deliver more to the audience than just music and text in the interpretation of such pieces. Ideally, one combines this with colourful costumes, flashy lighting effects and wild dances. Siegel quickly found such a group. Quickly because this was already February and the 31st March 1979 was looming ever closer, the day of the "Eurovision Song Contest" in Jerusalem / Israel. He was essentially looking for individuals with striking features, those who looked like Genghis Khan – or at least somewhat similar.
And he found the married couple Wolfgang und Henriette Heichel (he: a former dentistry student and art teacher, she: a dental assistant, model and ice dancer, Lesley Mandoki (with moustache and mane, Hungarian, jazz musician), Luis Potgieter (with a crown, professional dancer from South Africa), Edina Pop (pop singer, also from Hungary) and Steve Bender (with a bald head).
The group had come together. Now things had to move swiftly. Everything ran to a precise time plan. The choreographer Hannes Winkler planned the grand performance. Every move was practised and studied. At the same time the fashion designer Marc Mano in Munich designed the most outrageous costumes, which still have cult status to this day. Four weeks after their founding, "Dschinghis Khan" won German selection for the Eurovision Song Contest by a huge margin. Two weeks later they were off to Jerusalem.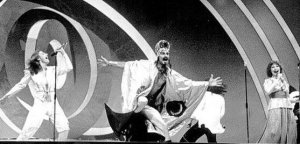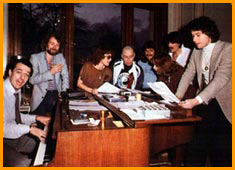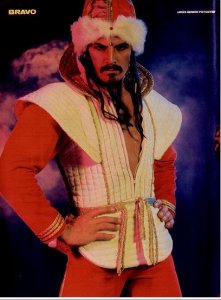 4th place at the Eurovision Song Contest was their first international breakthrough. Just a few weeks later the group received a golden disc for selling 500,000 copies of the single "Dschinghis Khan", a big achievement even then. Subsequent hits in the same style were to follow: "Moskau", "Rocking Son Of Dschinghis Khan", "Hadschi Halef Omar", "Rom"; one success after the other. Gold and platinum discs rained on them from across the globe, from Germany and an additional 20 countries including Japan, Australia, Korea, Holland, Belgium, Israel, Denmark, Sweden, Switzerland, Norway and Finland. Even the former states of the USSR became great enthusiasts of the music of Dschinghis Khan. In these territories Dschinghis Khan sold more records than in the rest of world put together!
In Israel and Japan the group ruled the charts from the top spot. In Japan the German version of the song was a hit, something which has never been achieved by another artist to this day. They won the German "Bambi" record prize, the "Golden Lion" from Radio Luxemburg and the "Golden Europe" from the German radio station Europawelle Saar. It was that easy to attain a fairy tale international career. Dschinghis Khan were a glamorous face of the sound known as "Made in Munich", which was ruling the charts in America and across the globe at that time.
Following two albums and just before the release of the album "Wir sitzen alle im selben Boot" [we all sit in the same boat] Steve Bender left the band in 1981 for a multitude of reasons. Despite this heavy loss, Dschinghis Khan charted two further hits in "Pistolero" and "Loreley". However, Dschinghis Khan suddenly disbanded without any warning. What happened? There were many rumours, maybe there were serious disagreements between Dschinghis Khan and the record company, or problems within the group …
Dancer and leading band member Louis Hendrik Potgieter died of AIDS in his home city of Cape Town, South Africa in 1993. The period that followed witnessed the release of many remixes and medleys of familiar Dschinghis-Khan hits, such as the single and album "Huh Hah Dschinghis Khan" (1993) or the "History of Dschinghis Khan" (1999).