2005 the Reunion of Dschinghis Khan!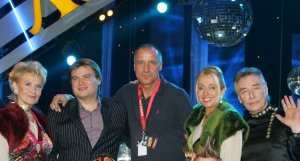 Heinz Gross, music manager from Munich, was the driving force in the reunion of Dschinghis Khan. He brought the original members of the group back together in autumn 2005. Together with old and new Russian friends, Heinz Gross produced the "Reunion Concert", performed by Dschinghis Khan in Moscow on the 17th December 2005. The stage production in the Moscow Olympic Arena comprised of 26 artic-lorry loads of equipment and stage rigging, totalling more than 300 tonnes in weight.
The founding members Steve Bender, Edina Pop, Henriette Strobel and Wolfgang Heichel performed directed by Heinz Gross the Dschinghis Khan Revue, together with 72 additional performers, in which they performed all of the hits and singles from the successful 1979 album "Dschinghis Khan" to thundering applause from approx. 30,000 fans. The Russian television station ORT 1 transmitted the concert across the globe. The show received an acclaimed television prize as the best Russian music show of the year.
On the 7th May 2006 Steve Bender passed away following a long and difficult battle with cancer. A heavy blow for the last three band members. Should the band now finish for good? Following much consideration, the group came to a decision to continue – also in the name of Steve Bender (+2006) und Louis Hendrik Potgieter (+1993).
On the 15th July 2006 they performed once again, a big show in the Ulan Bator Stadium (Mongolia). As headline act, next to Scorpions and Scooter the group celebrated the 800th birthday of the Mongolian ruler Genghis Khan, together with his Great-Great-Great…. Grandchild. A huge show with horses, camels and dancers in front of an amazing backdrop – performed in the world's spotlight. Dschinghis Khan performed as part of the Naadam Festival in front of state guests from all over the world and in front of 25,000 enthusiastic Mongols. The state television broadcasted the show live the same evening. A very special kind of experience, for which one kilogram of fireworks was set off for each birthday, which takes a long time with an 800-year history, meaning that almost a ton of fireworks were sent skywards. The Russian space station Mir reported that it could see the fireworks, so that the Mongolian rulers had once again made themselves visible worldwide.
In spring 2007 the album comeback was celebrated with great media hype, with the Dschinghis Khan album "7 Leben" at Koch/Universal.